photo courtesy of http://www.commons.wikimedia.org/wiki/Image:School_bus.jpg

Here we are again at the beginning of another fun filled school year. Kids have to eat breakfast to fuel their minds for the day. When they do not eat breakfast, they tend to be more sleepy, sluggish, and not as alert as they would if they eat a good breakfast. A person does not have to be a gourmet cook by any means to make sure their kids have a good breakfast. These are some of the breakfast choices my kids have in the mornings and they do not have the same old thing every day (well unless they want to anyway).




In the summer, I always buy alot of berries. Strawberries and blueberries are our most favorite. I make jam with some of it, we eat some of it, and then there is freezing it for winter. One thing they love is smoothies. You can make a fresh fruit yogurt smoothie for them to drink up before leaving for the bus or even on the way to the bus. Just get some fruit, yogurt, milk and whip it up in the blender. Strawberry banana is a hot flavor for my older daughter; bananas are good for you because they are packed with potassium which your body needs. My youngest loves anything blueberry; do the same thing with blueberries, yogurt, and a little milk. Sometimes add honey for a little extra sweetness, especially when using a tart berry like blackberry or raspberry. To-go cups can be purchased at Costco with lids, they look like espresso cups and then get some straws and they can take their smoothies to go.

Yogurt Parfaits are also popular. Just take some fruit, granola or other favorite cereal, and of course, yogurt (any flavor). Mix it up or layer it in a parfait cup the night before and they can just grab it and eat it before leaving. My kids go for Multi-grain Cheerios in their parfait cups. Hubby likes granola in his. This is such a versatile breakfast and you can make so many combinations with different kinds of cereal, fruit, and yogurt out there on the market.




You can have waffles, pancakes, or french toast on hand. A lot of people buy the frozen kind, but I make my own since it is more economical that way. Anyone can whip up pancakes, waffles, or french toast on their own and then cool them off after cooking, place 2 or 3 in a freezer bag and freeze their own breakfast foods. Much cheaper than buying frozen and better for you when you use wheat or any multi-grain flour.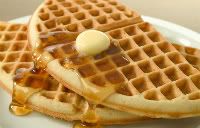 You can add miniature chocolate chips, blueberries, bananas and nuts, or whatever sounds good at the time. My oldest son likes bacon waffles, I put bacon bits in the waffle batter and then cook them. He says its like having his bacon and waffles all in one. Then they make waffle or pancake sandwiches with peanut butter and jelly and they can take them with them out the door.




Any multi-purpose cookbook will have recipes for pancakes, waffles, or french toast. Websites also have recipes for nutritious batters for these wonderful breakfast foods. You just have to look and find what is out there, rather than paying more than you need to in order to have these frozen convenience foods out there.

So whatever the kids like, make sure they eat in the morning before leaving for school. You would be doing them a disservice by allowing them to leave before fueling them up for the morning. Extra work in the morning or the night before is well worth kids getting better grades, and being healthier overall because you thought to make sure they had something for breakfast every morning.