(BBQ Beef Sandwiches and Tater Tots)

Friday night we had BBQ beef sandwiches from the crock pot for dinner. They were simply scrumptious! (coming up is what I do with the leftover BBQ beef... I make pizza with it! coming soon) anyway, it is so super simple to make if you like BBQ like we do (during the summer we BBQ everything we can, it is hubby's choice method of cooking). I just started out with a regular chuck beef roast; mine was about 3-4 lbs. I made my favorite BBQ rub (I make my own rubs and will share the recipes) and smothered the roast with it the night before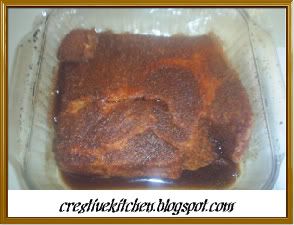 (this is what it looks like out of the fridge after soaking in rub overnight)

Then, you just put it in the crock pot for about 6 hours on low and leave it alone. Of course you have to put liquid in with the roast (which I used what else? 1/8 cup of Coke to tenderize the meat as always) plus about 1/4 cup water and then I used the liquid left in the bottom of the baking dish that I had the meat in. The rub after a while becomes liquid in the bottom of the pan while the roast is absorbing the rub flavor into the meat. That is good stuff, by all means dump that juice in with the roast for extra flavor. You can also throw in a teaspoon of liquid smoke if you like your BBQ somewhat smoky flavored. Sometimes I do, and sometimes I don't throw that in; just depends on what I feel like eating.

After the 6 hours, you remove it (watch out it will fall apart upon removing and you should use a slotted spoon to get it out rather than a fork, a fork will just break it up and you would have to use that slotted spoon anyway). Place it on a cookie sheet and using 2 forks just start shredding. It should look like this, if it is tenderized correctly (see below 2 pictures):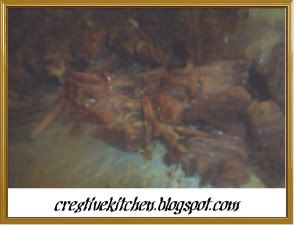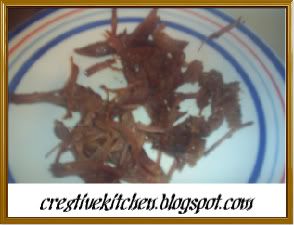 Doesn't that look yummy? Oh it is, trust me on this one! Then after you have shredded it, put it in a bowl and put BBQ sauce over it (if you like saucy BBQ beef) or you can eat it dry like this (it still has the flavor of the BBQ rub on it so it will still taste like BBQ). We served it with tater tots and green salad. This is a family favorite!

To freeze the leftovers for something else later, just put cooled leftovers into a freezer bag and freeze. When I need this leftover BBQ beef, I will just thaw it out and use it to make BBQ pizza (which is awesome and when I thaw out the beef for something for dinner, I will post about the pizza). It is a great way to use the leftover BBQ Beef. After all, we all love pizza!