Can we say 'BACK TO SCHOOL'; I can hardly believe the summer is gone. Wednesday September 3rd, my older daughter goes back to school (she was secretly making me crazy, it was hard to keep her busy this summer, she is 9 thinking she is 16 or something with her smart mouth...you know the "whatever" or the "none of your business mother" oh well I get my house back this week YAY!) (ooops did I say that out loud?? I was kidding, she is ready to go back since she is so bored around the house) My youngest goes to start her first full year of preschool and she is excited to go too. She gets to ride the bus and everything. Her school starts next week on the 10th. Anyway, back to food...

This is a list of my kids' top 10 snacks for in the lunchbox and after school. This is what my kids like the best and always ask for. They are going to be counted down below in David Letterman Style (yeah I do watch him when I cannot sleep or when I am not blogging LOL) My kids are kind of weird... according to their friends. I am just thankful that I do not have to battle them to eat decent snacks and lunches. These 10 ideas are not only nutritious (with the exception of at least 1, you will be able to pick it out as you read on) but they are fast and easy to fix. The kids can just grab and go, no preparation for them and it is easy for you to do.

Starting with number 10... The Top 10 lunchbox and after school snacks of Brenda's kids:
10.

Crackers- such as Ritz, Triscut, Wheat Thins,and others; they are great with fruit and cheese and a few crackers will do them for a snack because they are denser than most chips and better for them since most crackers are made from whole grains, just have to read the box.

9.
Granola Bars- they are a good snack in a pinch or a filler in the lunch box instead of fatty cupcakes, etc- however, they are high in sugar (the commercial bars) and should be eaten in moderation (meaning not all the time). There are recipes out there for homemade granola bars that are probably far better than the store bought ones (Note to self: Find some good recipes for granola bars and share with the class LOL just a little school humor)

8.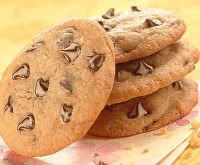 Believe it or not, my kids priorities are not cookies (well sometimes but mostly not). Their number 8 snack is a cookie, which is good since not all cookies are good for growing kiddos. Especially the ones I make LOL I love the Nestle Tollhouse Cookies, and I love to make them, but I know I shouldn't because they aren't good for everyone all the time. Every once in a while is good, but again, in moderation and not all the time. Even though there are great recipes for nutritious cookies, most people go for the gooey chocolate chip or fudge something or other because alot of people are conditioned that a cookie should be like that. (another note to self: find recipes on nutritious cookies to share with everyone) But when they have a cookie or 2, they usually do have it with a big glass of milk so that at least they are getting something their body needs along with the sweetness of the cookie.

7.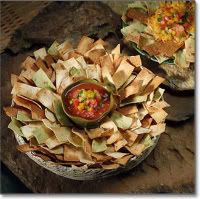 Chips and Salsa or other baked chips- I usually do not buy potato chips, I don't like the grease on alot of them; although I do like the Baked Lays, Baked Cheeto-s, and things of the baked nature. So, I buy tortilla chips and salsa along with other baked chips like the ones previously mentioned and the kids love it! Pair it up with a bit of melted cheese and you have nachos, what kid does not like nachos? I don't know, but my kids love them. Way better for them, no added grease and alot of them have no saturated fats; which they do not need. Also, it is so easy to make homemade salsa, which is also better for them with the fresh ingredients and the health benefits of the tomatoes, that it makes our list of good snacks after school. I will post my famous salsa in another post when I find my recipe among all the boxes of recipes I have. Baked chips are lower in saturated fats, if they have any at all, and most have no trans-fats; you just have to read the label.

6.

Peanut Butter Sandwich- My kids love their peanut butter sandwiches, especially with my freezer jam on it. It makes a great snack after school, lunchbox sandwich, or even breakfast (my 3 yr old loves good old PB&J for breakfast) Peanut butter is good for you since it adds protein to your diet and kids need that for fuel to get them through the day. Or, instead of jam/jelly, try some banana on it.

5.
Good old wholesome CHEESE- They could eat cheese til the cows come home. It is packed with calcium and protein which helps a growing body. Just a couple ounces will do them for a good snack. Makes a good team with some fruit or crackers.

4.

Carrot Sticks with or without Dip- Just keep carrots on hand and see how fast they disappear with some favorite dip or just to munch on couple hours before dinner. My daughters like it with their favorite ranch dip for a snack or I can put some in the lunch box. Slice them up ahead of time and put them in water in the fridge when storing to make sure they keep their freshness and crispiness and they stay ice cold. Or you can get the bags of baby carrots already peeled and ready to eat. I choose to buy carrots in bulk and then peel them and slice them myself, it is alot cheaper that way and they get the same nutritional benefit. They are a high source of beta carotene which is good for their eyesight.

3.
Yogurt - any flavor will do, they can just grab a yogurt and a spoon and sit down to a nice yummy snack. Goes great in the lunchbox with a ice pack to keep it cold at school. Lots of calcium keep their bones strong. There are ways to make your own yogurt if you do not want to buy the commercial brands, but I have not figured that one out yet LOL I will look for some yogurt recipes and post them though. I have friend who makes her own and I will ask her for her recipe, she makes darn good yogurt!

2.

Fruit- any kind of fruit will work. My kids love almost every kind of fruit I have tried on them. They are not picky when it comes to fruit. I always buy my fruit at Costco because in the long run for us, it is much cheaper considering how much they eat. They love cantaloupe, watermelon, bananas, apples, peaches, oranges (especially satsumas around holiday season, we go through many boxes of those in the winter), and many others. I should own stock in Costco because of the amounts of produce I buy there. Not to mention how much I buy at Farmer's Market every year also, and then there is how much I can every year... Let's put it this way... if you are what you eat, then my kids would be little fruit salads.

And finally, the number one snack of my kids is......

1.

Celery and Peanut Butter- They love celery and peanut butter and get cranky when I do not buy celery at the store. So I try to always have some ready for them because most of the time, this is what they want. Sometimes with raisins on it and we call that Ants on a Log. You have the celery for fiber for regularity, and peanut butter for extra protein. Warms my heart to hear them crunching all over the house, after all it is a noisy food! But, at least I know they are eating good and enjoying what they eat!