Richard's Aunt Linda is a great cook. Her teriyaki is to die for. So here is her recipe for Teriyaki Beef that is a quick and easy meal. The only work you have to really do is make the teriyaki sauce and let the meat marinate (overnight for best results).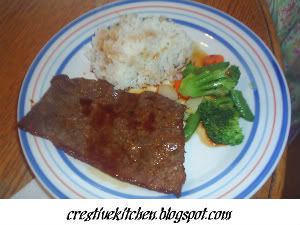 (Teriyaki Beef with sticky rice and stir fried vegetables covered in teriyaki sauce)

Teriyaki Beef

1 Tbsp grated fresh ginger root or 1 tsp ground ginger
2 cloves garlic, mashed
2 Tbsp brown sugar
1/2 cup soy sauce
2 Tbsp vegetable oil
Freshly ground pepper to taste
2 lbs beef round steak

Prepare the marinade by combining ginger, garlic, brown sugar, soy sauce, pepper. Add meat. Marinate overnight for best results.


(Beef marinating)

Cook until desired doneness (broil or BBQ) approximately 5-7 mins on each side. Serve with sticky rice and stir fry vegetables.
*recipe for sauce can be doubled if table sauce is desired, just use half for marinade and half for table sauce over rice*