Ok to go with the chocolate base idea, this picture is what my middle daughter would like for her birthday this year. It is a castle cake and I am going to attempt to make it for her. (attempt is the operative word here, I mean I can build but this is going to be tricky) After all, you only turn 10 once, right?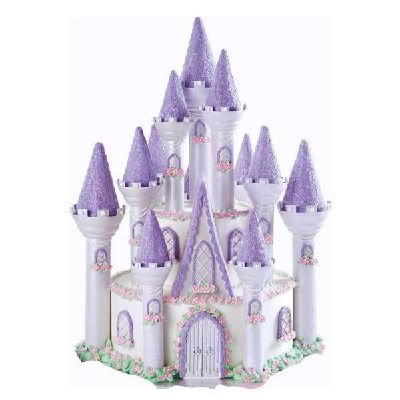 Photo courtesy of 2008 Wilton Industries, Inc.

This one I am going to build on a white chocolate base. Same idea as a brown chocolate base, only you buy white chocolate almond bark. Harden it as described in last post, and place on top of cake and start building.

Only thing is with this cake (I have already started planning because her birthday is Dec 31 but it will take time and effort so plan early with a big project so that hopefully it turns out right for the special day). With this cake, they say to use fondant, but since it isn't the best tasting substance in the world (trust me, it isn't LOL) then I am going to have to modify using more edible substances. So I am going to make it out of chocolate and just build it on top of the base on top of a cake and the kids can just eat the castle (talk about a sugar high there LOL)

For the towers, I am envisioning sugar cones then frost them the right color, and I have started figuring out how big I want it and I am using thin cardboard to make patterns for the cake so I can cut out the chocolate and then use royal icing to paste it together.

The great thing about being able to make cakes like this is that if you go to www.wilton.com, they have all the ideas with detailed instructions so that even the most inexperienced decorators can make these. If you can follow a recipe and instructions, then there is no limit to what you can do. So wish me luck on this latest endeavour and if it turns out right there will be pictures of it coming probably January (after her birthday anyway).

Update: I didn't get a chance to get the castle cake planned and shaped the way I wanted since I couldn't get my hands on the appropriate tubes for castle towers and some other tools so she chose her second choice of Hannah Montana Cake. That is in post called Fun with Cakes 6.