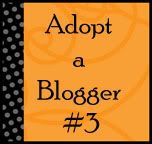 I have recently had the pleasure to participate in Adopt-A-Blogger sponsored by Kristen at Dine and Dish and so far having a lot of fun but also learning from my mentor (the person who adopted me) Jennifer Wilson who writes 2 blogs; Midwest Neurotica and Simple Scrapper. So far she has been very helpful and is so very nice! I appreciate all her help.

Since I am new to the world of blogging, I thought how nice it would be to have someone who actually knows what she is doing helping me out and give me suggestions which is exactly what Jennifer has done. I am working on changing Cre8tive Kitchen for the better with the suggestions I am receiving. So for the next 3 months, we will be undergoing some experimental things, some construction changes, and maybe you might see a whole new transformation of Cre8tive Kitchen. It only gets better from here!

As for our sponsor in this great event... she is awesome too so check out her site at Dine and Dish. She is such a nice person to actually organize something like this so the new people can get good at what they love to do. I appreciate you penciling me in at the last minute Kristen!